How much insulation do I need in my home?
Since 1972, Eric Kjelshus Energy Heating and Cooling has been helping Kansas City residents and businesses reduce their energy costs and increase home comfort through the installation of high quality insulation.  Eric Kjelshus Energy Heating and Cooling offers the best value for your home improvement dollars.
We are members of the National Association for the Remodeling Industry (NARI) and are certified through the Building Performance Institute (BPI).
from Energy.gov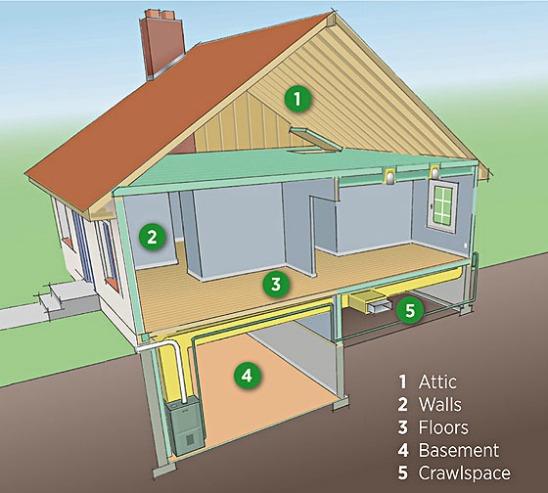 Where to Insulate. Adding insulation in the areas shown here may be the best way to improve your home's energy efficiency. Insulate either the attic floor or under the roof. Check with a contractor about crawl space or basement insulation.
Insulation is made from a variety of materials, and it usually comes in four types: rolls and batts, loose-fill, rigid foam, and foam-in-place.
ROLLS AND BATTS
Rolls and batts — or blankets — are flexible products made from mineral fibers, such as fiberglass and rock wool. They are available in widths suited to standard spacing of wall studs and attic or floor joists: 2 inch x 4 inch walls can hold R-13 or R-15 batts; 2 inch x 6 inch walls can use R-19 or R-21 products.
LOOSE-FILL INSULATION
Loose-fill insulation is usually made of fiberglass, rock wool, or cellulose in the form of loose fibers or fiber pellets. It should be blown into spaces using special pneumatic equipment. The blown-in material conforms readily to odd-sized building cavities and attics with wires, ducts, and pipes, making it well suited for places where it is difficult to effectively install other types of insulation.
RIGID FOAM INSULATION
Rigid foam insulation is typically more expensive than rolls and batts or loose-fill insulation, but it is very effective in exterior wall sheathing, interior sheathing for basement walls, and special applications such as attic hatches. Foam insulation R-values range from R-4 to R-6.5 per inch of thickness, which is up to 2 times greater than most other insulating materials of the same thickness.
FOAM-IN-PLACE INSULATION
Foam-in-place insulation can be blown into walls, on attic surfaces, or under floors to insulate and reduce air leakage. You can use the small pressurized cans of foam-in-place insulation to reduce air leakage in holes and cracks such as window and door frames, and electrical and plumbing penetrations.
There are two types of foam-in-place insulation: closed-cell and open-cell. Both are typically made with polyurethane. With closed-cell foam, the high-density cells are closed and filled with a gas that helps the foam expand to fill the spaces around it. Closed-cell foam is the most effective, with an insulation value of around R-6.2 per inch of thickness.
Open-cell foam cells are not as dense and are filled with air, which gives the insulation a spongy texture. Open-cell foam insulation value is around R-3.7 per inch of thickness.
The type of insulation you should choose depends on how you will use it and on your budget. While closed-cell foam has a greater R-value and provides stronger resistance against moisture and air leakage, the material is also much denser and is more expensive to install. Open-cell foam is lighter and less expensive but should not be used below ground level where it could absorb water. Consult a professional insulation installer to decide what type of insulation is best for you.
INSULATION TIPS
Consider factors such as your climate, home design, and budget when selecting insulation for your home.
Use higher R-value insulation, such as spray foam, on exterior walls and in cathedral ceilings to get more insulation with less thickness.
Install attic air barriers such as wind baffles along the entire attic eave to help ensure proper airflow from the soffit to the attic. Ventilation helps with moisture control and reducing summer cooling bills, but don't ventilate your attic if you have insulation on the underside of the roof. Ask a qualified contractor for recommendations.
Be careful how close you place insulation next to a recessed light fixture—unless it is insulation contact (IC) rated—to avoid a fire hazard. See the Lighting section for more information about recessed lights.
Follow the manufacturer's installation instructions, and wear the proper protective gear when installing insulation.
LONG-TERM SAVINGS TIPS
One of the most cost-effective ways to make your home more comfortable year-round is to add insulation to your attic, including the attic trap or access door, which is relatively easy.
To find out if you have enough attic insulation, measure the thickness of the insulation. If it is less than R-30 (11 inches of fiberglass or rock wool or 8 inches of cellulose), you could probably benefit by adding more.
If your attic has enough insulation and proper air sealing, and your home still feels drafty and cold in the winter or too warm in the summer, chances are you need to add insulation to the exterior walls. This is more expensive and usually requires a contractor, but it may be worth the cost—especially if you live in a very cold climate. If you replace the exterior siding on your home, consider adding insulation at the same time.
You may also need to add insulation to your crawlspace or basement. Check with a professional contractor for recommendations.
NEW CONSTRUCTION AND ADDITIONS
In most climates, you will save money and energy when you build a new home or addition if you install a combination of cavity insulation and insulative sheathing. Reduce exterior wall leaks by taping the joints of exterior sheathing and caulking and sealing exterior walls. Cavity insulation can be installed at levels up to R-15 in a 2 inch x 4 inch wall and up to R-21 in a 2 inch x 6 inch wall.
These help to reduce the energy that would otherwise be lost through the wood frame. The table below shows the recommended combinations. For more customized recommendations, see theZIP Code Insulation Calculator.
Consider products that provide both insulation and structural support, such as structural insulated panels (SIPs), and masonry products like insulating concrete forms.
You should consider attic or roof radiant barriers (in hot climates), reflective insulation, and foundation insulation for new home construction. Check with your contractor for more information about these options.
About Eric Kjelshus Energy Heating and Cooling
Eric Kjelshus Energy Heating and Cooling has been providing air conditioning services in the Kansas City area since 1972. Our commitment to quality and dedication to excellence in customer care has made Eric Kjelshus Energy Heating and Cooling the #1 heating and cooling services company in the Kansas City Metro Area.
Eric Kjelshus Energy Heating and Cooling proudly serves the following communities: (In Kansas) Fairway, Lake Quivera, Lawrence, Leawood, Lenexa, Meriden, Merriam, Mission, Olathe, Overland Park, Prairie Village, Roeland Park, Shawnee Mission, Spring Hill, Stillwell, (In Missouri) Bates City, Belton, Blue Springs, Buckner, Grain Valley, Grandview, Greenwood, Harrisonville, Higginsville, Holden, Holt, Independence, Kansas City, Kingsville, Lake Lotawana, Lake Tapawingo, Lake Winnebago, Lee's Summit, Liberty, Lone Jack, Napoleon, Oak Grove, Odessa, Parkville, Peculiar, Pleasant Hill, Raymore, Raytown, Richmond, Warrensburg, Weatherby Lake