How do solar water heaters work and should I get one?
Eric Kjelshus Energy Heating and Cooling are experts and diagnosing your hot water heater issues and recommending the best solution – repair your existing hot water heater (saving you money) or replace your water heater with a new hot water heater.
Our Master Plumbers will work with you and your budget to select the best solution for your situation including upgrades to Energy Star Qualified water heaters and options like solar and tankless systems.
Solar Water Heaters, an article from Energy.gov
Solar water heaters — also called solar domestic hot water systems — can be a cost-effective way to generate hot water for your home. They can be used in any climate, and the fuel they use — sunshine — is free.
HOW THEY WORK
Solar water heating systems include storage tanks and solar collectors. There are two types of solar water heating systems: active, which have circulating pumps and controls, and passive, which don't.
ACTIVE SOLAR WATER HEATING SYSTEMS
There are two types of active solar water heating systems:
Direct circulation systems
Pumps circulate household water through the collectors and into the home. They work well in climates where it rarely freezes.
Indirect circulation systems
Pumps circulate a non-freezing, heat-transfer fluid through the collectors and a heat exchanger. This heats the water that then flows into the home. They are popular in climates prone to freezing temperatures.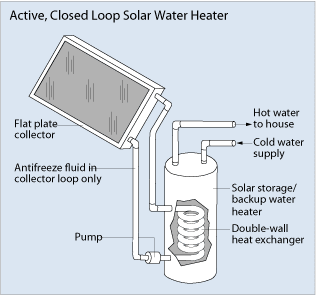 PASSIVE SOLAR WATER HEATING SYSTEMS
Passive solar water heating systems are typically less expensive than active systems, but they're usually not as efficient. However, passive systems can be more reliable and may last longer. There are two basic types of passive systems:
Integral collector-storage passive systems
These work best in areas where temperatures rarely fall below freezing. They also work well in households with significant daytime and evening hot-water needs.
Thermosyphon systems
Water flows through the system when warm water rises as cooler water sinks. The collector must be installed below the storage tank so that warm water will rise into the tank. These systems are reliable, but contractors must pay careful attention to the roof design because of the heavy storage tank. They are usually more expensive than integral collector-storage passive systems.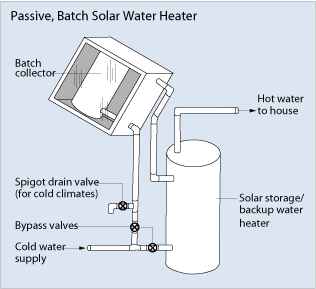 STORAGE TANKS AND SOLAR COLLECTORS
Most solar water heaters require a well-insulated storage tank. Solar storage tanks have an additional outlet and inlet connected to and from the collector. In two-tank systems, the solar water heater preheats water before it enters the conventional water heater. In one-tank systems, the back-up heater is combined with the solar storage in one tank.
Three types of solar collectors are used for residential applications:
Flat-plate collector
Glazed flat-plate collectors are insulated, weatherproofed boxes that contain a dark absorber plate under one or more glass or plastic (polymer) covers. Unglazed flat-plate collectors — typically used for solar pool heating — have a dark absorber plate, made of metal or polymer, without a cover or enclosure.
Integral collector-storage systems
Also known as ICS or batch systems, they feature one or more black tanks or tubes in an insulated, glazed box. Cold water first passes through the solar collector, which preheats the water. The water then continues on to the conventional backup water heater, providing a reliable source of hot water. They should be installed only in mild-freeze climates because the outdoor pipes could freeze in severe, cold weather.
Evacuated-tube solar collectors
They feature parallel rows of transparent glass tubes. Each tube contains a glass outer tube and metal absorber tube attached to a fin. The fin's coating absorbs solar energy but inhibits radiative heat loss. These collectors are used more frequently for U.S. commercial applications.
Solar water heating systems almost always require a backup system for cloudy days and times of increased demand. Conventional storage water heaters usually provide backup and may already be part of the solar system package. A backup system may also be part of the solar collector, such as rooftop tanks with thermosyphon systems. Since an integral-collector storage system already stores hot water in addition to collecting solar heat, it may be packaged with a tankless or demand-type water heater for backup.
---
Eric Kjelshus Energy Heating and Cooling is Kansas City's Top Solar Energy Company
Eric Kjelshus Energy Heating and Cooling is Kansas City's leader in solar energy applications for homes and businesses. We have been installing solar systems for over 20 years successfully saving residents & businesses thousands of dollars while supporting energy independence and reducing green house gases.
Visit our Solar Energy Tax Credits & Rebates page to learn about the available Kansas City, Missouri and Federal financial incentives to install solar power in your home or commercial property and check out our Solar Energy Financing Options that can get you started with little or no out of pocket costs. Check out our Solar Energy Frequently Asked Questions Page for answers to commonly asked Solar Energy questions.
Our Solar Energy Services Include:
Photovoltaic & Thermal Application Installations
Hybrid Systems – Solar plus Geothermal Heat Pump
Solar Hot Water Heaters
Rooftop Solar Panel Installations – Active & Passive Applications
All Plumbing & Electrical
Solar Panel Maintenance & Repair
Financing & Tax Credit Application Support
Residential & Commercial Solar Energy Applications:
Generate Electricity
Heat Water & Cooking
Heating & Cooling Systems
Outdoor & Indoor Lighting

Run Fans & Ventilation Systems
Heat Swimming Pools
Power Pumps
Charge Batteries
We proudly serve the following Kansas City, MO Metro Area Communities: Belton, Blue Springs, Cockrell, Grain Valley, Grandview, Greenwood, Independence, Kansas City, Lake Lotawana, Lake Tapawingo, Lake Winnebago, Lee's Summit, Lone Jack, Peculiar, Pleasant Hill, Raymore, Raytown, Tarsney Lakes & Unity Village.
What to Expect When You Call Eric Kjelshus Energy Heating and Cooling
Professional Can Do Attitude – Our unrelenting commitment to quality and never-ending dedication to excellence in customer care and outstanding service has made us the #1 residential service provider in the Kansas City, MO Metro Area.
N.A.T.E Certified and Factory Trained Technicians – We only hire the best and then we make sure they are trained to handle your heating and cooling needs. Our Techs are honest, professional and courteous.
Satisfaction Guarantee – We guarantee all repairs for 1 year and offer up to 10 year factory warranties on all installed equipment.
No Surprise Price Guarantee! – The price we quote you is the price you pay.